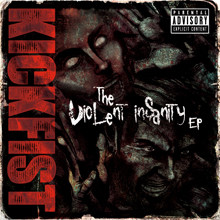 release date:
August 15, 2014
share:
The Violent InSanity EP
1. No Bullsh*t (No Compromise)
2. Watch The Fallen
3. Drown
4. Sculptor To The Clay
About the 'The Violent inSanity EP'
'The Violent InSanity EP' is the blistering, autobiographically inspired, DEBUT recording from Brighton metal-group KICKFIST.
Split into two Acts, 'ACT I - The Violent' and 'ACT II - The Insanity'; it explores the psychological breakdown and 'rebirth' of Zakk Zander; with themes of infidelity, unrequited love, and mental illness, and, at the same time, unapologetically calls out 'fakes' in the music industry.
Produced/Directed entirely by Zakk Zander; the EP was independently funded by the band and released via 'FlipTheBird Records' on August 15th 2014.
DISCLAIMER: KICKFIST do not condone or accept responsibility for any actions undertaken in relation to the lyrical or musical content contained within the recording. The content is explicit and parental advisory is advised.
Credits & Legal Information
All music written by Z. Zander, D. O'toole, T. Corcoran and M.Romanowski.
All lyrics written by Z. Zander.
Vocals performed by Z. Zander.
Guitars performed by D. O'toole.
Bass performed by M. Romanowski.
Drums performed by T. Corcoran.
Backing Vocals performed by Z. Zander (with the exception of 'Watch The Fallen' performed by Z. Zander & D. O'toole)
Additional Drums performed by R. Plowman & Z. Zander.
'Storyline' Vocals performed by Z. Zander (with the exception of the female lead on 'Sculptor To The Clay' performed by 'Anonymous').
Sound effects created/captured by Z. Zander & R. Plowman.
'Storyline' sections directed by Z. Zander.
Produced by Z. Zander
Engineered by R. Plowman
Recorded, Mixed and Mastered at Soundbyte Studios
All artwork created by Z. Zander.
Packaging Designed by FlipTheBird Media - www.FlipTheBirdMedia.com

℗©2014 KICKFIST Music, All Rights Reserved. Unauthorised Duplication, Public Performance, Broadcasting, Renting, Copying, And Making Transmittable of the Disc, Artwork, Lyrics or Music Strictly Prohibited